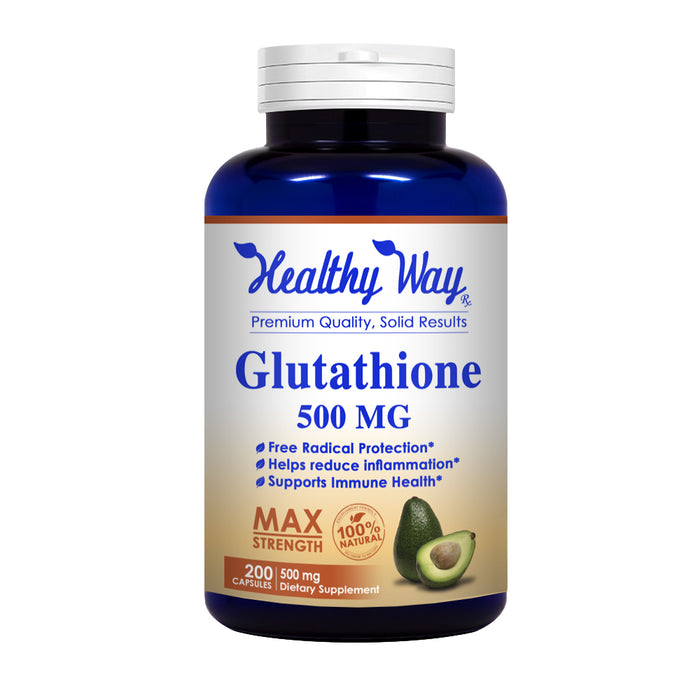 Description
Glutathione (500mg – 100 capsules)
MAX STRENGTH GLUTATHIONE: Each capsule of Healthy Way RX Glutathione Supplement contains a dose of 500mg, and a bottle contains 100 capsules. Glutathione is a powerful antioxidant found in human cells that is essential for natural immune defense and detoxification.
AWESOME ANTIOXIDANT PROPERTIES: Reduced Glutathione (GSH) comprises of 3 amino acids: Glutamate, Cysteine and Glycine. GSH plays a vital role in eliminating oxidative stress caused by free radicals, lipid peroxides and heavy metals. Also, GSH promotes the health of the liver and immune system, helps detoxify the body, enhance healthy inflammatory responses and improves cardiovascular health.
Glutathione, also known as L-Glutathione or Glutathione (GSH), is mostly in its reduced form when found in supplement formulations. It is an organic substance of the body that comprises of the amino acids – cysteine, glycine and glutamic acid. It can be found in capsules, soft gels, pills, tablets, powder, liposomal form, soap, spray, drops, droplets, liquid, or cream.