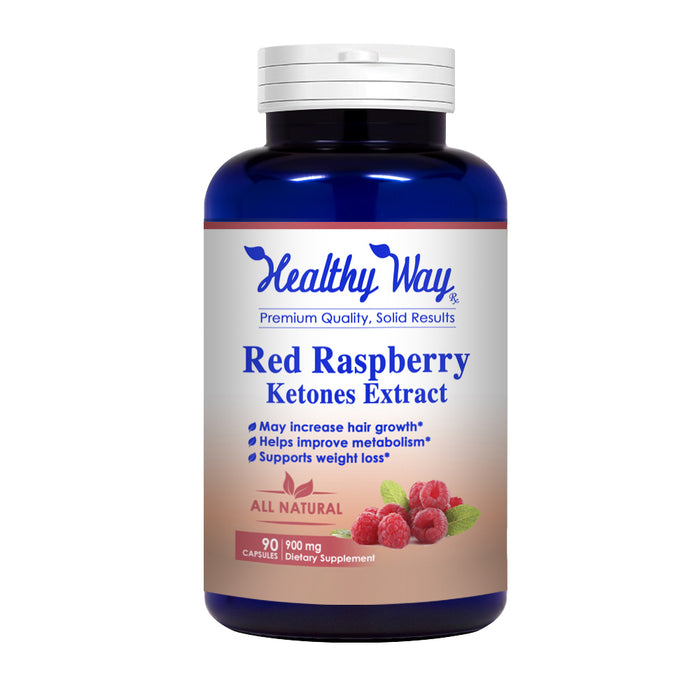 Description
MAXIMUM ENERGY BURST
100% RASPBERRY KETONE CAPSULE provides a maximum burst of energy. This product contains 900mg of pure raspberry ketones, which you'll have to take 2 capsules per day. Our product comes in pure formula, is highly concentrated and guarantees users of maximum energy. It beats all competitions, as most of the other alternatives in the market are made of impure formula and lesser concentration.
IT AIDS IN WEIGHT LOSS
Our 100% Pure Raspberry Ketone Capsule is made from only natural ingredients from raspberry. Its constituent chemicals enhance body metabolism and reduces appetite. It is enriched with antioxidants that help in increase energy output, aid weight loss and improve mood.
NATURAL FORMULATION
Healthy Way's Raspberry Ketone Formula is made with only 100% natural ingredients. It doesn't contain any harmful preservatives, unnecessary fillers or GMOs, so it doesn't cause any harmful side effects. Every single one of our supplements undergo through clinical testing and quality control checks before we package them and bring into the market. Therefore when you buy this product, be rest assured that there won't be any negative side effects.
HIGHLY CONCENTRATED
All you need to take for maximal effect is 2 capsules per day. It'll improve your body metabolism, suppress your appetite and shrink down your waistline. You can also try our Garcinian Combogia, Milk Thistle 1000mg, CoQ10 400mg (Coenzyme Q10), Resveratrol, Forskolin 500mg, DHEA 100mg, Rhodiola Rosea, Candida Cleanse, Green Coffee Bean Extract, Colon Cleans and Green Tea.